Note to Self
Love is patient; love is kind.
Love doesn't boast or brag.
There's no arrogance in love;
it's never rude, crude, or indecent-it's not self absorbed.
Love isn't easily upset.
Love doesn't tally wrongs.
Love trusts, hopes, and endures no matter what.
Love will never become obsolete.
I'll fight for her.
Thief


Caleb Drake never got over his first love. Not when he got married. Not when she got married. When life suddenly comes full circle Caleb must decide how how far he is willing to go to get the aloof and alluring Olivia Kaspen back. But for every action in life there is a consequence, and soon Caleb finds out that sometimes love comes at an unbearably high price.
Author Bio:
I am a real life villain, truly. I drink sick amounts of Starbucks. Most of the time my hair smells like coffee. I was born in South Africa, and lived there for most of my childhood. I moved to Seattle just for the rain. Rome is my favorite place in the world so far, Paris comes in at a close second. I read and write more than I sleep. When I was eleven, I wrote an entire novel about runaway orphans, using only purple ink. I am addicted to Florence and the Machine and will travel to see concerts. I love scary movies and giraffes. I spend way too much time on Facebook. Meet you there?…
Goodreads book link
https://www.goodreads.com/book/show/16090981-thief?from_search=true
·
10 LMWL Amazon e-book sets
The Opportunist will be on sale for 99 cents from Nov.3rd-Nov.10th!
FAN CHAT WITH TARRYN FISHER Hosted by the PLN's (Passionate Little Nutcases)
Ask Tarryn any questions you have!

There will be some trivia questions for giveaways so come prepared with your copy of Thief!

We look forward to chatting with you!
November 10

th

9pm-10pm EST
My 4 Star Review:
Hmm, how to write this review without spoilers as the reader needs to experience the emotional roller coaster ride on their own. This has to be the most depressing and heart wrenching love story I have ever read. I don't know how I finished it without having a break-down myself. They say timing is everything but for Olivia and Caleb time had passed them by many times over during a ten-year period.
"Maybe this is finally our time. Maybe"
The story is in Caleb's POV and alternates between past and present giving the reader a glimpse of the first two books The Opportunist and Dirty Red where their lives are condemned to live in pain and torture.
"No more fighting-not for her, or with her, or with myself. I am so sad."
Torture, as their love for one another leads to a lifelong obsession of want and need as a series of lies and misunderstandings always seems to get in the way of what the heart and body need. I wanted to cry so many times, I would have to close my kindle and take a deep breathe. The author's writing style is like no other I can remember reading. I felt like I was falling into a black hole, you know like when you're dreaming of falling only you never reach the bottom and you awaken startled. I don't have the words to describe the
sadness and then anger I felt toward Caleb and Olivia, each their own worst enemy. Just when I thought, there might be a chance for the love/lust couple…
"This is the last time I'm going to say this, so listen carefully. You and I are happening. No one is keeping us apart again. Not Noah or Cammie, and least of all fucking Leah. You are mine. Do you understand me?"
Zap, the author adds another layer of pain. Baggage, a word so innocent until you use it to describe the other lives that have infiltrated the orange grove of Caleb and Olivia's destiny.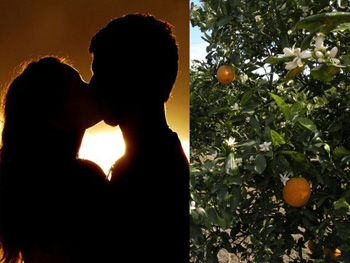 Like an old tarnished penny they keep turning up to destroy any chance of a future together.
Endings can go either way, they can leave you hurting or wanting more, this one left me speechless.