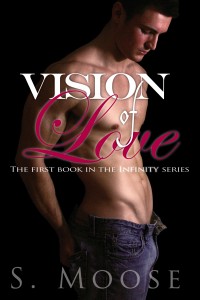 Synopsis:
You can say I had it all. The fancy house, top of the line car, lots of friends and more money than anyone could ever imagine. On the outside, we were the perfect family. No one knew about my abusive father and my mother who drank herself into oblivion every night. My name is Karly and I have scars, deep scars that no one knows about, and when my parents died I was left alone and on my own, to fight through life with no help.
When it came to life and happiness, I had it all until my world was turned upside down. My name is Nicholas and my wife, the love of my life, left me and our new baby girl without as much as an explanation. I didn't want to accept it, but after our divorce was final and four long years passed, I started to lose hope that she'd ever come back.
Emma was growing so fast and I needed help. My sister recommended that I hire her friend, Karly, as Emma's nanny. I took a chance on bringing another woman into my little girl's life. Did I do the right thing? As many days and nights are spent together, feelings can no longer be denied and a relationship is formed.
Life is about taking chances and learning how to fall, but when the past comes back, will they be strong enough to fight through and trust each other? Or will all they worked for fall apart?
Excerpt:
"You're mine tonight so make sure you stay by my side," I whisper in her ear. My hands hold onto her hips as we dance. Damn she can dance. She takes the lead, helping me move with her.
The music is loud with the bass bumping against the speakers causing the crowd to go wild. The atmosphere is screaming fun and sex.

The music changes to 'Hold It Against Me' by Brittany Spears. The alcohol finally kicks in. My hands go on a mission and find the spot they want. "Fuck baby! No panties tonight?"
A seductive smile comes on her face. "Just. For. You." I let out a growl and push my fingers inside her.

"Baby you're so fucking wet."
"I'm always wet when it comes to you." She bites down on my shoulder whispering for more. I feel her body shudder against mine.
Karly pulls down her dress and guides me off the dance floor towards the bathroom.
Yes!
Vision of Love 3 Star Review
Sitting on the fence with this one for two reasons.
One, I like the idea of a victim of abuse using their inner strength to move forward and
make a life for themselves. Two, to me it was not believable.
To escape her past Karly made the decision to move to another city and start over.
She meets her roommates' brother Nicholas, a divorced man with a child and the two
become friends. Nicholas has a hard time trusting after his wife Jamie deserted him and his
daughter, he vowed to never let anyone get close to him again but there is a buzz of sexual tension
that makes it impossible for them to ignore.
The past keeps resurfacing for Karly in nightmares and when ex-boyfriend Bradley shows up unexpectedly he's trouble and adds some excitement to the story, I'm not sure why Neil was
brought back, it did nothing but add to the length of the book.

There are scenes of sex bliss, considering Karly was a virgin her first time with Nicholas was
unreal, she didn't appear to have any pain and she got right with the program and rode him like a
One of the scenes that bothered me was about 72% in Karly's not sure what Nicholas' is feeling
she said it never came up, really? They had already confessed their love for one another so
how can she not know?
The whole money thing, trust fund and being rich is just another thing
I couldn't swallow.
Just little nitpicking things that annoy me.


ARRGH, cliffhanger not my favorite, and not a believable cliffhanger.
After everything, Nicholas went through and after all his promises to Karly it just didn't make
sense but it is a cliffhanger. Then after Nicholas ordered Karly to leave she has have sex
with him one more time, I don't think so!



Buy Links:
About the Author:
Saoching Moose, writing as S. Moose, is a New Adult Romance author living in Webster, NY with her amazing husband, Kevin Moose.
A 2011 Saint John Fisher College graduate, S.Moose loves to read, write, be with her family and friends, and living her life to the fullest.

Connect with S.Moose anytime!
Giveaway:
A signed paperback of Vision of Love by S. Moose with swag. Open In'tl.
a Rafflecopter giveaway